Planning a family glamping holiday in Somerset? Or wanting to offer glamping from your site?
Campsites in England have been able to reopen from 4th July 2020, as recently announced by Boris Johnson.
The news comes as a huge relief for campsite owners and families alike. Due to overseas travel looking very questionable this summer, Somerset campsites are already seeing a marked increase in bookings. Similarly, the cancellation of all music festivals and events have left the UK public searching for new ways to spend the summer.
This is where we can help. Wild Hare Events are the UK's largest supplier of Lotus Belle tents. We have 60 structures that are feeling very lonely and unused in our warehouse! We are therefore delighted to be partnering up with local campsites to offer glamping on a short or long term basis. Lotus Belles offer the perfect opportunity for socially distanced glamping, without compromising on quality.
Luxury Lotus Belle Tents
Our tents come furnished with solid single or king-sized beds with memory foam toppers, winter duvets and pillows, and cotton bed linen. Handmade Indian throws finish the look. Also provided are tables and chairs, lighting, door mats, cushions and storage. They are guaranteed to be the talking point of any campsite!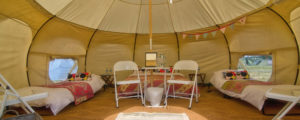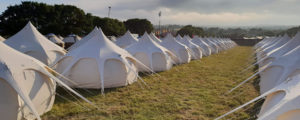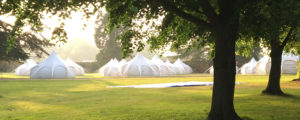 We have strict Covid sanitisation measures in place and can supply a stock of linen and bedding for changeovers.
We are also able to offer our tents for private, individual hire (minimum 3 tents booked).
The summer of 2020 will be remembered for many things, but the phrase that springs most to our minds is 'diversification'. At the time of writing, we would have been working hard on the festival circuit. However, this was sadly not to be. So instead of dwelling on what hasn't happened, we are turning our focus and efforts to what we can create!
We firmly believe these challenging times can actually provide new and exciting opportunities to explore our beautiful country. So if you want to do it in style, talk to us today!