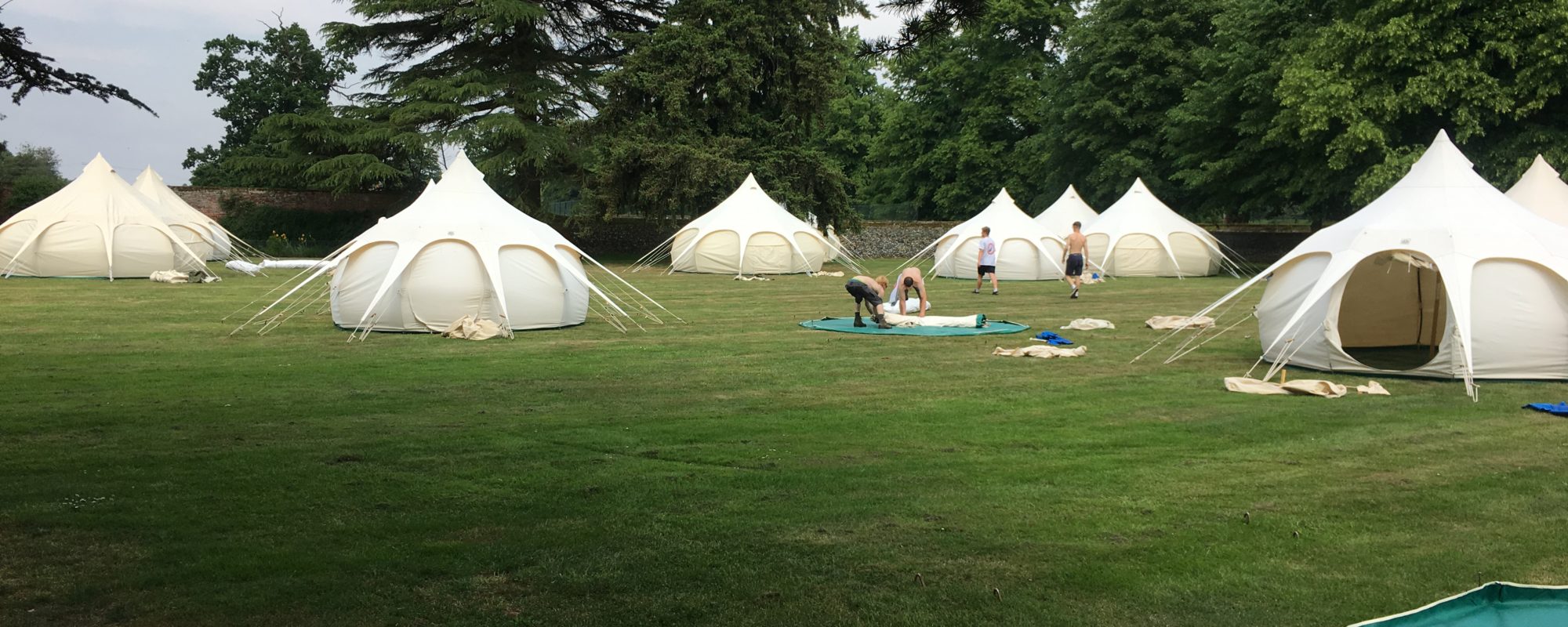 Booking Terms and Conditions
These terms and conditions set out the basis upon which you hire equipment and accommodation from Wild Hare Events Limited ("us" or "we", as appropriate). Please ensure that the information you complete when booking is correct and complete – we cannot be held responsible for mistakes which result from incorrect or incomplete information you provide.
Transfer of Accommodation Bookings
Wild Hare Events Ltd are not responsible to or liable in anyway whatsoever to provide entry to any accommodation, or any service to the purchaser or person/s in possession of a Wild Hare Events Ltd order confirmation obtained from any source other than through Wild Hare Events Ltd directly or authorised official agents. All orders/bookings are non-transferable, and rights of entitlement are only applicable to the bona-fide original purchaser. Accommodation bookings MAY NOT TO BE RE-SOLD / SOLD ON OR PASSED ON TO A THIRD PERSON IN GRACE OR FAVOUR, without the written permission of Wild Hare Events Ltd.
Rental Period
The contract will commence on the day of your arrival at the event and will terminate on the day the event closes. For some events where applicable, you may be required to pay a damage deposit, which will be returned to you if the accommodation is delivered up to us at the close of the event in the same condition in which it was provided to you. If it is not, we will be able to deduct the costs of any repair from the deposit and return any balance of such sum to you.
Refunds
If you cancel your booking 28 days or more prior to the start of the event we will refund hire charges that you have paid subject to levy by us of a cancellation fee of 10% of the hire charges. If you cancel your booking more than 14 days before the start of the event (but less than 28 days before the start) we will refund hire charges that you have paid subject to levy by us of a cancellation fee of 50% of the hire charges. No refund will be given if you cancel your booking 14 days or less prior to the event. In the unlikely event that accommodation becomes unavailable due to circumstances beyond our control, a full refund will be given.
Acceptance
You will satisfy yourself that the accommodation as supplied is of satisfactory condition. Any fault in the accommodation must be notified to one of our staff at the event as soon as reasonably practicable after it is discovered and in any event within one hour of being discovered. We reserve the right to substitute your accommodation for another of equivalent specification. You will leave the accommodation in good condition and clean and tidy at the end of the event. The accommodation remains our sole property. Our accommodation accommodates up to the number of persons indicated on our sales page (this limit may not be exceeded) and the accommodation may not be moved, altered, modified or adjusted without our consent.
Loss and damage
We exclude to the fullest extent permitted by law our liability to you for loss or damage resulting from your use of the accommodation. As party leader, you are responsible for the behaviour of all members of your group and will be liable for any loss or damage to the accommodation, the site where it is located or its contents during their stay. It is your responsibility to ensure that all possible steps are taken to avoid injury when using the accommodation. You will also ensure that you and your party comply with all rules set down by the event organisers. You will not subject the accommodation to any misuse or wear and tear inconsistent with normal and reasonable use, complying, where applicable, with manufacturer recommendations or any other reasonable requirements that we notify you of. The accommodation is a public space and you will not smoke inside it. You will further not use a naked or other type of flame in, on or around the accommodation. This includes camping stoves and fires. Any dispute between us and you arising from the rental or use of the accommodation or these terms and conditions is governed by English law.
Complaints & Issues
Complaints/issues must be brought to the attention of staff at the Reception tent whilst onsite so we can deal with any issues immediately. If the problem occurs outside of reception tent opening hours, then the 24hr mobile must be called. If the problem is not rectified onsite an email must be received within 2 weeks following the event.
Terms of Use
Payment of your invoice indicates acceptance of these Terms of Use. If you do not accept these Terms of Use, then please do not pay your invoice. Your booking will not be confirmed.
Liability
IN NO EVENT WILL Wild Hare Events Ltd, OR OTHER THIRD PARTIES MENTIONED AT THIS SITE BE LIABLE FOR ANY DAMAGES WHATSOEVER ARISING OUT OF THE USE OF THIS ACCOMMODATION. APPLICABLE LAW MAY NOT ALLOW THE EXCLUSION OR LIMITATION OF INCIDENTAL OR CONSEQUENTIAL DAMAGES, SO THE ABOVE LIMITATION OR EXCLUSION MAY NOT APPLY TO YOU.
Applicable Laws
The Laws of England govern these Terms of Use. If you choose to agree to these Terms of Use outside the United Kingdom, you do so on your own initiative and are responsible for compliance with any applicable local laws.
General
Wild Hare Events Ltd may revise the Terms of Use at any time. You are responsible for ensuring that you are kept fully informed of any changes to these Terms of Use.